In a previous article on the Perdepera beach in Carededu, we named the Pastificio Orrú store; which deserves an article for herself, to be able to taste the famous Culurgionis.
If you visit the south of the island it should be a mandatory stop. For us it is a ritual whenever we go through the town.
Pastificio Orrú is located in the same town of Cardedu and we can buy one of the best Culurgionis on the island! (and the world!) and other delicacies that we know will delight our readers.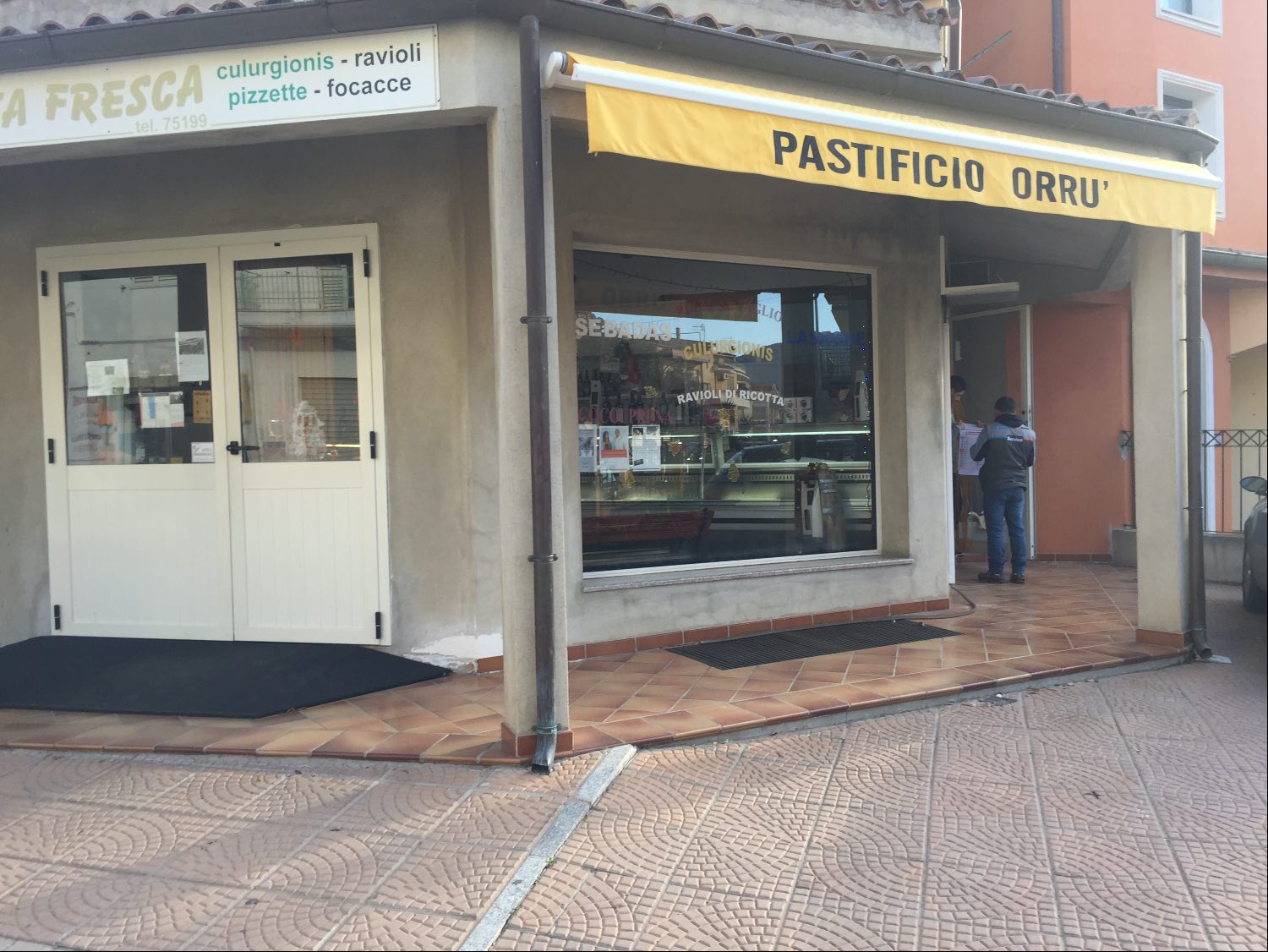 We never know what to choose, what a dilemma!
The main products that we can find in Pastificio Orrú are coccoi prena, culurgionis, seadas, corcoriga … everything is very good!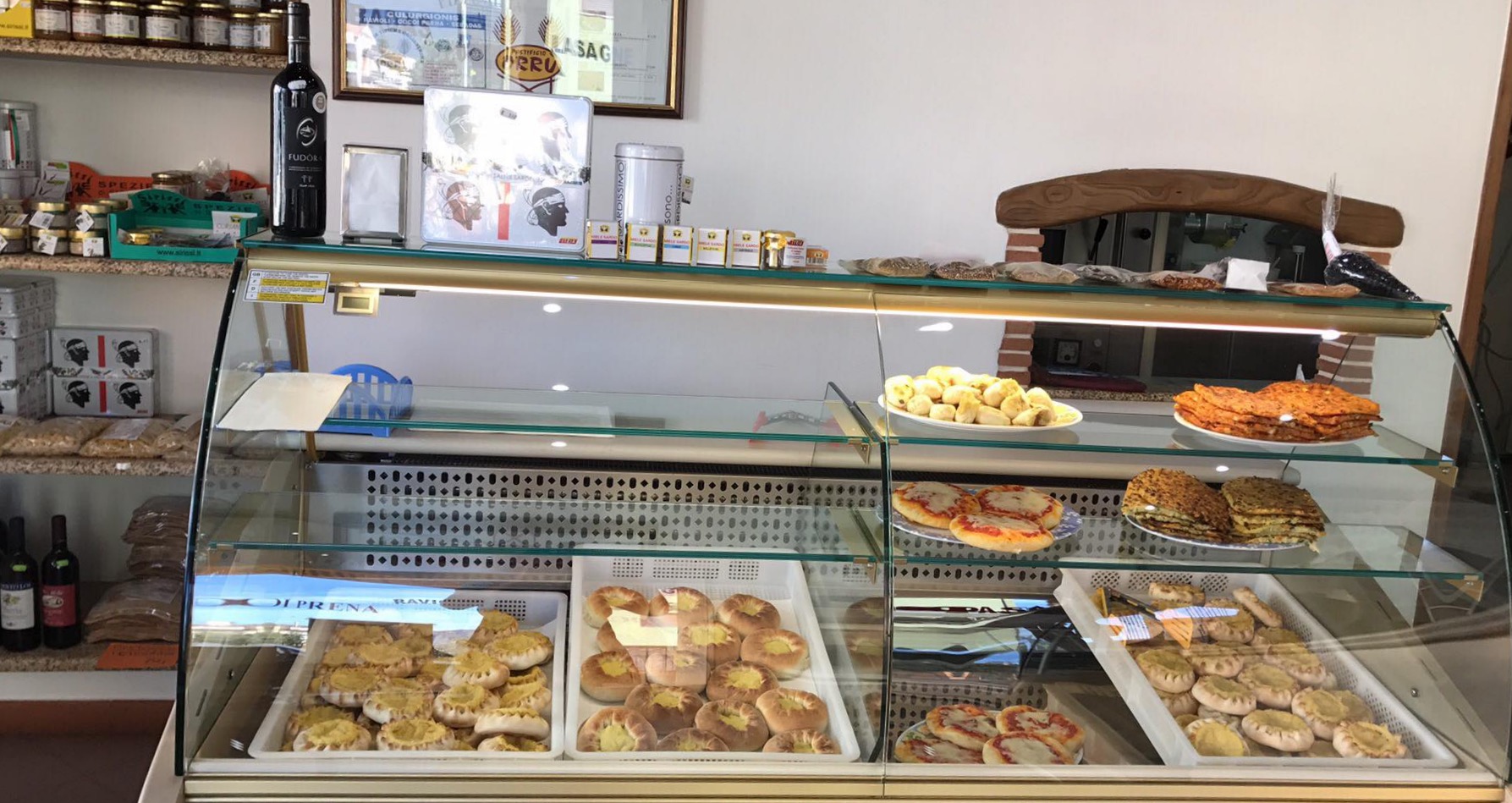 We will explain their specialties (we are not responsible for the hunger that may enter you!):
The famous Culurgionis are a type of fresh pasta (like a pasty or very similar to a Japanese gyoza) stuffed with potatoes, pecorino cheese or ricotta, and as in this case, with a slight mint flavor … they are great!
The culurgionis are original from the Ogliastra area.
The town of Cardedu is one of the few places where it is still possible to taste some of the best typical dishes of the Sardinian culinary tradition, and it should be noted that it is one of the best areas of the island. Among all these dishes, the culurgionis represent a unique first dish, perfect for any occasion, and ideal for savoring the authentic flavor of Sardinia.
The Coccoi prena (or "prenas" in the plural to indicate more than one) is a salty cake originating in Ogliastra and the Nuorese area, with a filling similar to that of the culurgionis, which we can eat as an aperitif, snack or even as "food to nibble on. " The filling is made with potatoes, mint and cheese. The cheese used is the "casu axedu" or "frue". It is a typical sheep cheese, salty and sour, obtained after curdling.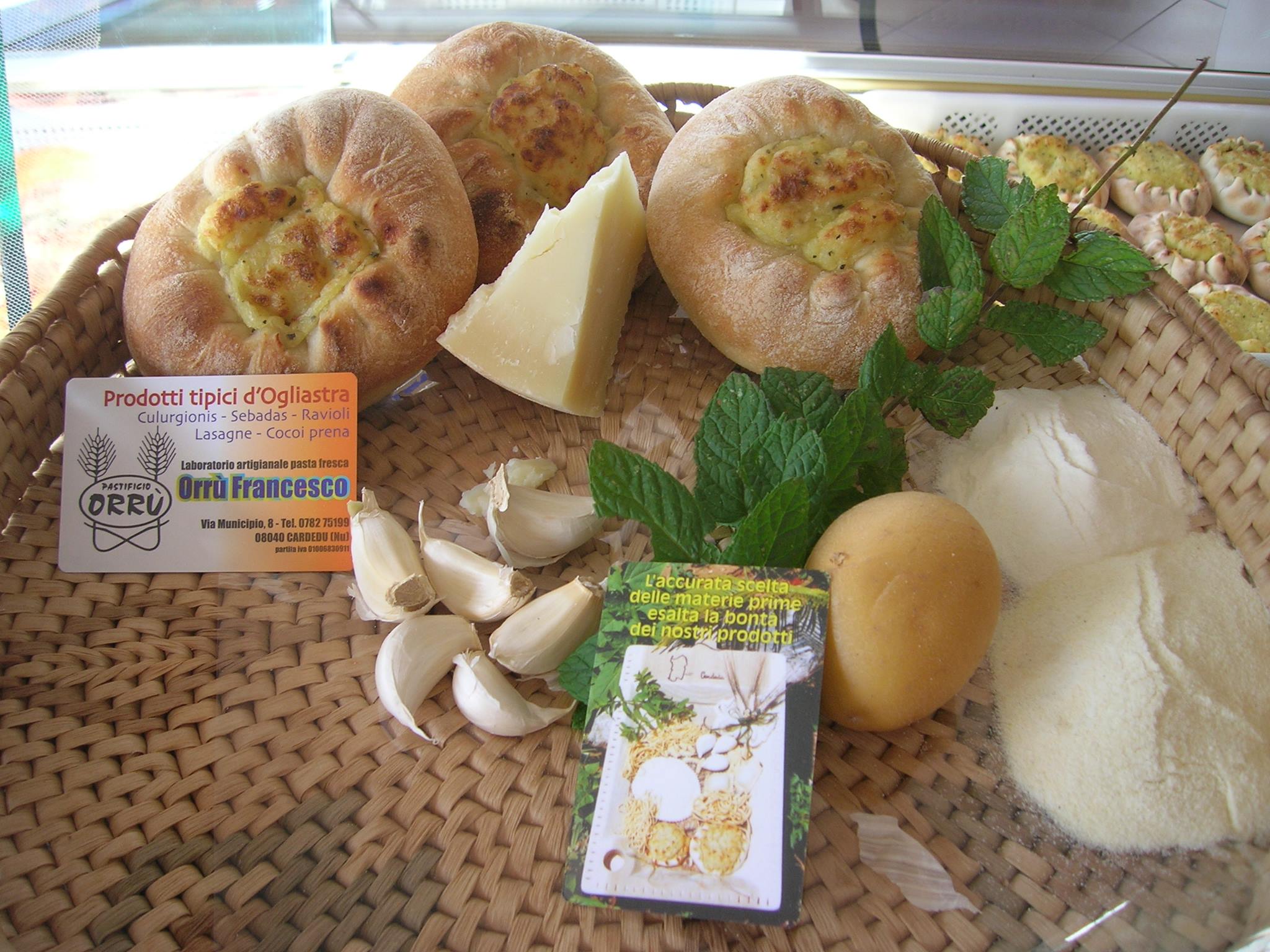 Sardinian Seadas is one of the best sweet desserts you can try! They are made with cheese and honey. They are also known by the name of sebadas or sevada, and are characterized by a crust of flour, water and lard and a filling of Sardinian pecorino cheese enriched with lemon zest. The whole is completed by adding the strawberry tree honey on top. Choosing cheese is critical to the success of the dish because too strong a cheese would distort the flavor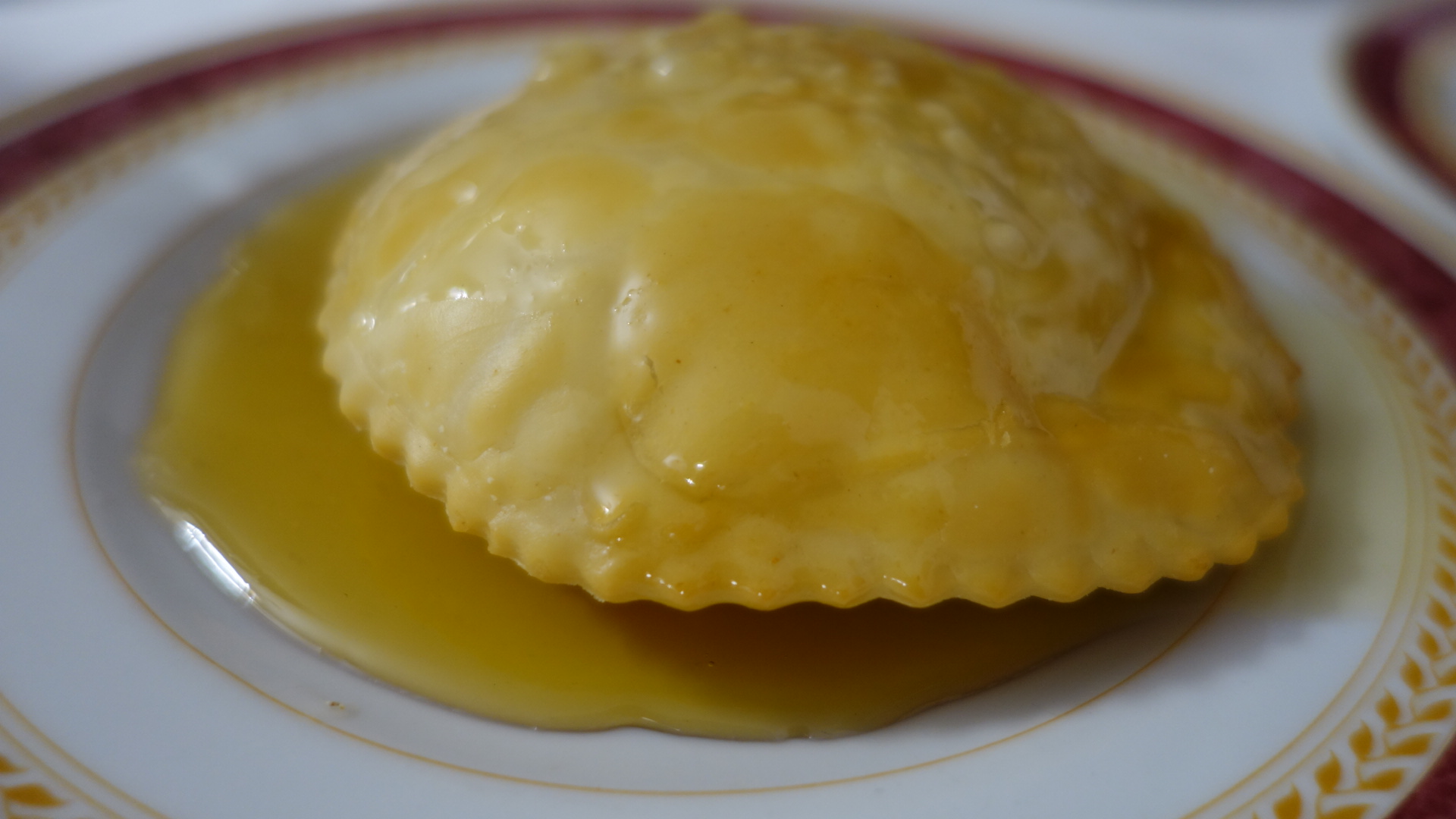 And finally we are going to highlight the so-called Corcoriga or "civargedda", a kind of pancake obtained from a mixture of pumpkin, zucchini, onion, cheese, fresh tomatoes, flour and oil (on the right in the photo below).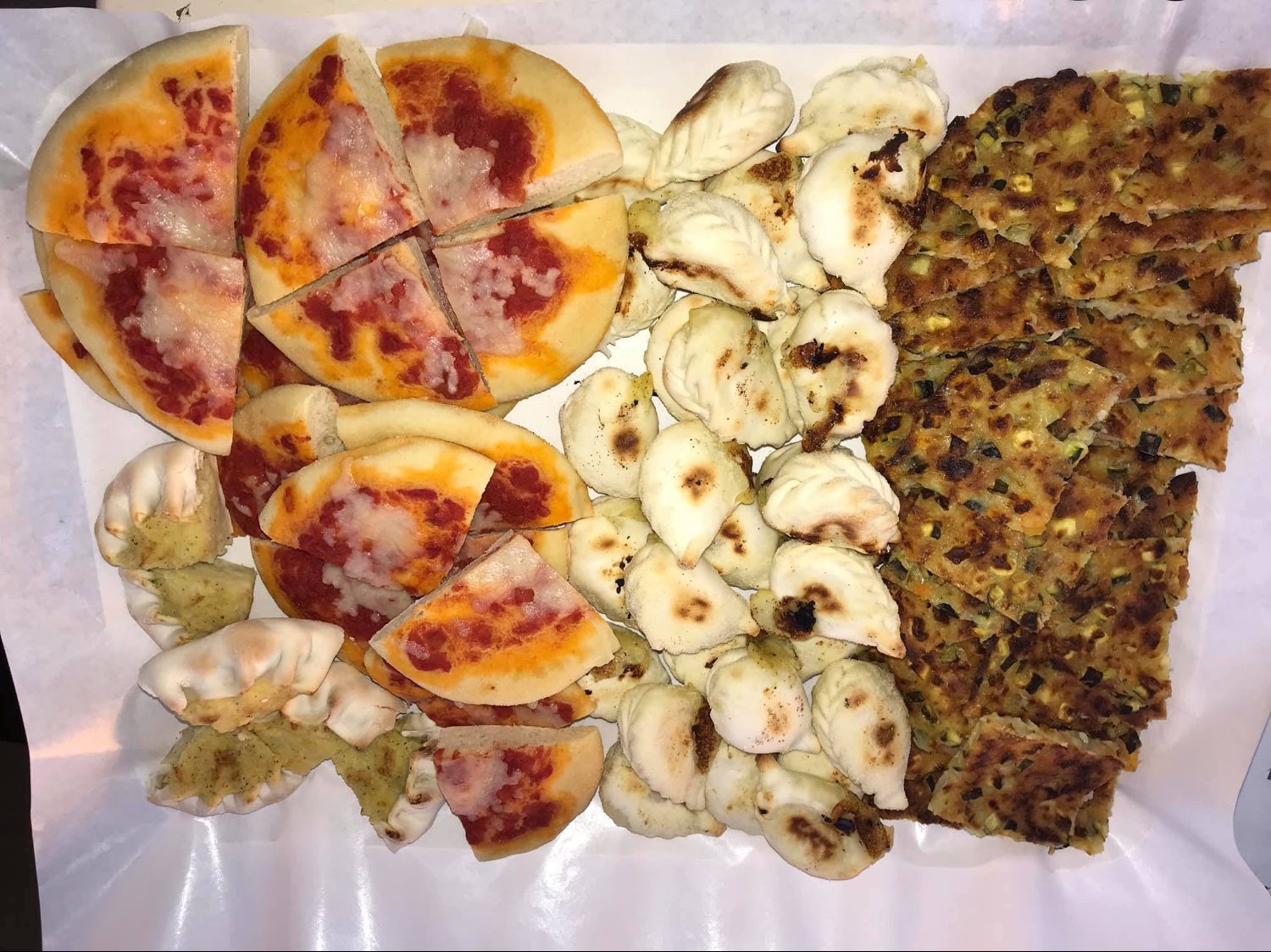 They also sell other typical foods such as spices, very good for later cooking pasta dishes, rice dishes at home, etc.
Pastificio Orrú: Via Municipio, 8, 08040 Cardedu OG, Italia.
Telephone: +39078275199
Google Maps: https://goo.gl/maps/PastificioOrru
Times:
Monday: Closed
Tuesday: 07:30 – 13:00 16:30 – 19:30
Wednesday: 07:30 AM – 01:00 PM 04:30 PM – 07:30 PM
Thursday: 07:00 – 13:00 16:30 – 19:30
Friday: 07:00 – 13:00 16:30 – 19:30
Saturday: 07:00 AM – 01:00 PM 04:30 PM – 07:30 PM
Sunday: 07:30 – 13:00