The Giara di Gesturi is an area in the interior of the island and is well worth a visit, especially if you are visiting the famous Barumini, as it is not far away.
A Giara is a plateau of volcanic origin and Gesturi is the largest of the island (it has more than 80 square km). It is characterized by a very rocky soil, covered with cork trees and Mediterranean vegetation, all dotted with small pools of water (depressions called Paulis) in winter are filled with water and spring are covered with a colorful flora.
These pools are used for drinking for the last wild horses in Europe: the Giara horses.
The Giara horses, according to some scholars, do not belong to an indigenous species, but would now grown, the first breed of horse brought to Sardinia by the Phoenicians distant descendants. This hypothesis, however, has no scientific consensus and its origins remain unclear because there are no fossils that date from a time before the Nuragic period.
Until the late Middle Ages had herds of horses scattered in liberty throughout the island ; those of the Giara are the last remaining examples and today are one of the symbols of Sardinia.
They are characterized by a height to its withers of about 125/135 cm in adult males (females are slightly smaller), have a dark brown or black, tail and long, thick hair, almond eyes and forehead covered with a long fringe.
Their current number is about 550 specimen (live in groups of eight / ten horses), although this amount is increasing thanks to the protection policy implemented by the region of Sardinia, but mostly through the efforts of local communities.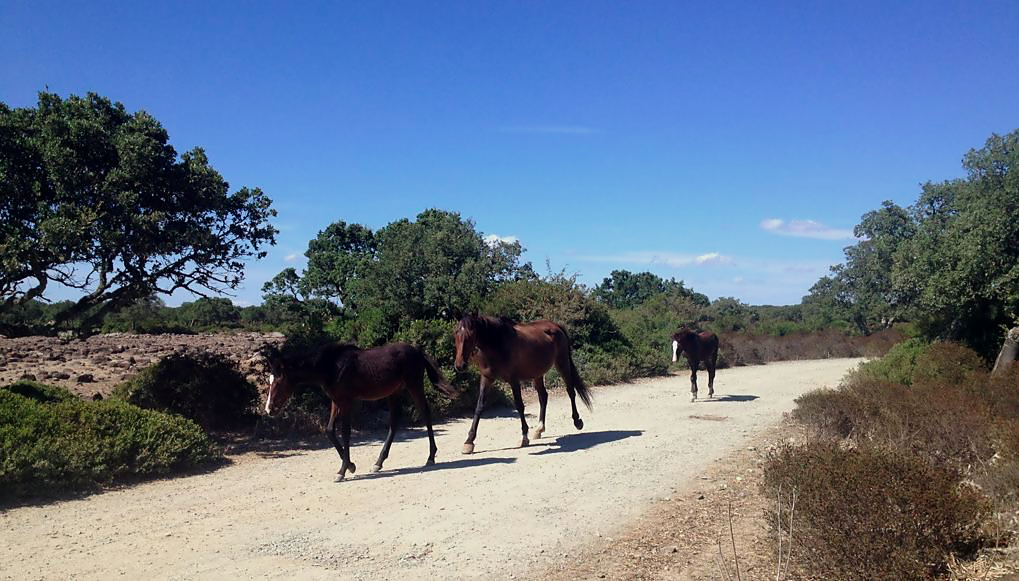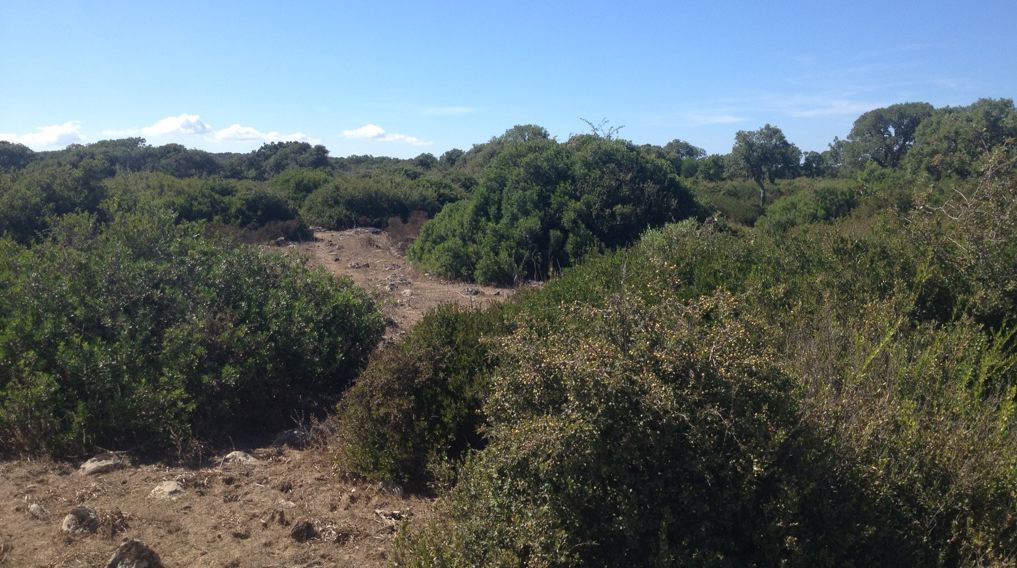 The access  is all enabled by road and there is a car parking area. From there, we can enjoy the area walking trails by several marked land and enjoy the ride for the curious trees that grow inclined because of the strong Mistral wind blowing in the area.
Comment of the Tourist: If you visit the area in summer, especially take into account that the sun is very strong at noon. It is important to carry water with us because surely lose track of time watching the beautiful horses. We find several herds during the tour and are being photographed closely if we approached calmly, but we must remember at all times that there are wild animals and you have to be respectful and cautious with them, especially when they have pups.
Comment of the local: the Giara for me is the place to leave the city on Sundays. Horses are a huge attraction and involve everyone, big and small. When I was little, I often went with my parents and I remember it fondly.
As we have said, the plateau of Gesturi is by its size and scope, the largest is in Sardinia, and yet is not the only one. The Giara di Serri for example, which adjoins the Gesturi, is also very beautiful and has a very interesting nuragic sanctuary. The nuragic sanctuary of Santa Vittoria, in fact, is also basaltic of volcanic origin and is one of the most important cultural complex of the Nuragic Sardinia. Inside are numerous examples of how religious cult lived. In addition to the remains of the two main temples, the capanna del Sacerdote  (Priest's cottage) and the  called recinto delle feste. As Abini, near the shrine, found permanent settlements, which reflected the fact that the pilgrimages were frequent and that the faithful stopped at places of worship reaching.
For those wishing to reach the archaeological site, we indicate the tour guides who organized tours : Cooperativa is Janas, Tel. 847 269 0782 Summer time: 9:30 a.m. to 8:30 p.m. (13h – 15h unguided). Winter hours: from 9h to 13h and 14h to 18h. Tickets cost: 4 € (full price) and 2 € (reduced). Email: isjanasorroli@libero.it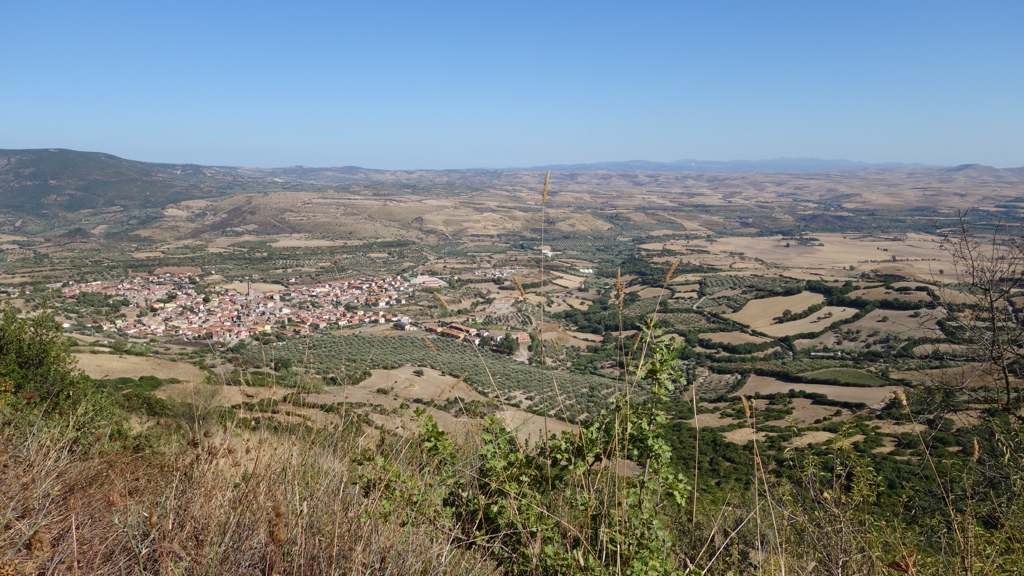 Location Giara di Gesturi: https://www.google.es/maps/place/Parco della Giara
Location Santa Vittoria Sanctuary: https://www.google.it/maps/place/Santuario Nuragico di Santa Vittoria