At Pizzeria Il Buongustaio in Cabras you will find one of the best pizzas to take away.
But we do not have photos in conditions. They are so good that we eat them before we realize we have not taken pictures.
This is how it always happens.
And  we have gone times … Only the last time we got a photo with the phone of the last sad piece that was … (the fabulous pizza with bottarga). From the best of the world.
Need I say more? You are late to go.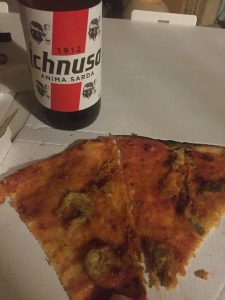 Tourist comment: The place has some tables, but in summer, with the heat it is, eating inside, a suicide mission. Better to take the pizza to any place, like to the hotel or sit in any square or bench in the street .. They sell cold drinks to take away too, above all the obligatory Ichnusa beer in all its variants and sizes. The pizza is superfine. The cover photo shows that there are always people waiting at the door … for something will be.
Local comment: I completely agree with Raquel on the goodness of Buongustaio's pizza. It has been several times that I have been there and the service is impeccable. I wanted to point out another particularity of the place: besides the Ichnusa beer, the restaurant offers several Contini wines, one of the biggest wine producers (delicious) in the area. The particular thing is that, depending on the wine you choose, they bring you the bottle with glasses and pay only the amounts you have drunk. 🙂
Address: Il Buongustaio, Via Alberto La Marmora, 11, Cabras.
Location: https://www.google.es/maps/place/IlBuongustaio
Phone: +39 0783290952