Is Arutas is one of the most famous beaches of Sinis-Montiferru area, and its peculiarity is in its sand, composed of small grains of quartz with shades of colors that alternate between green, pink and white.
As usual in the area beaches, it is a popular beach for surfers. Undoubtedly it is a place to visit, especially for its particular arena, but during the summer months is a beach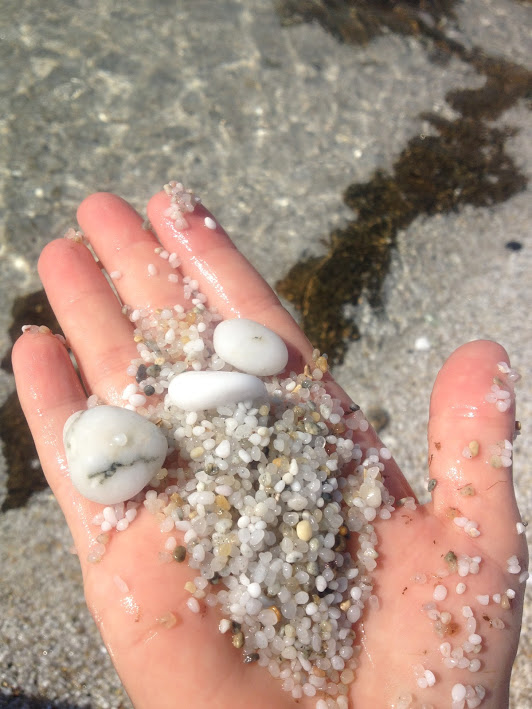 very crowded, but we found many other beautiful beaches to visit instead. The area is often windy, but if we can go a day without wind is like a swimming pool with a bluish green spectacular color. The parking beach is chargeable.
Also  we will find 2 bars and rental of umbrellas and lounge chairs. If, despite the drawbacks in full summer you decide to visit the beach, we recommend looking for a quieter place walking to the right at the seaside, to the next beach. There the sand is somewhat thicker and more windy area, but at least it's not as crowded and allow us to enjoy the place.
Comment of the Tourist: Since we're in the area, to seize the day, we recommend two activities:
1. For cat lovers, visit the colony of Su Pallosu. Rarely you get to do so many pictures of cats on a beach! The colony, which consists of a modest home with beachfront gardens, located on the main road, via Ziu Triages, 80 meters after the old Hotel Pallosu, right. You can park your car at the Museum Casa Gianni Atzori, if the margins of the road are very crowded. The visit takes about 25 min. http://www.gattisupallosu.org
2. For lovers of photography and especially the sunsets, a little beyond the colony of cats, past Gianni Atzori museum, where the road ends and the last houses, there is a very special location for having a good time doing photographs and enjoying a light and spectacular scenery. There is a raised area above the sea, which you can climb along the sandy paths, from where you can take pictures backlit and Mesa Longa beach.
Situation for photographs: https://www.google.es/maps/fotografia Mesa Longa