Oh Cabras! for many tourists who pass will be "simple village that has nothing" because at first seems a village in the American West where there is not a soul … But if we stay, we will discover that nothing is further from reality. I've been lucky enough to see it from the beginning through the eyes of my Sardinian friends, with all the stories they told me and then enjoy it with them, which always enriches the experience. And yes, it is my paradise, my place to get lost, where I connect with nature, where relaxation comes over me … where I don't have never enough days to stay.
It is my favorite place on the island (for now) and  I am visiting Sardinia for 7 years in order to discover new places. I always try to stop even a few days in "my town." Although this year I could not go to Cabras and it seems I'm missing something … So I loved to write about this place, to revive it.
Cabras is a small town on the banks of a huge freshwater lake, very close to Oristano. Its streets without slope make its inhabitants can see crossing it in their day to day on their bikes. There are two "downtown" areas. One is situated next to the church of Santa Maria Assunta next to the lake, in a vast square where one of the best pizzerias of Italy is placed, Pizzeria Focus.

And the other is next to City Hall, where in the evening we go for a coffee, a beer or ice cream .. (authentic Italian, we recommend trying the lemon sorbet! called "Carapiña") and mix with their inhabitants.
During the day, it is recommended to visit the Civic Museum of Cabras where you can see the exhibition Giants of Mont'e Prama, a nuraghic sculptures 3000 years old and have fascinated researchers and archaeologists from around the world and were Cabras discovered in 1974. No doubt these giants deserve an entire article!
Cabras environment is a privilege. Stroll along the lake at sunset or a cloudy day is a very good experience. We can enjoy the scenery through its paths and discover a variety of birds that inhabit the area. We can also go cycling if want to go more far.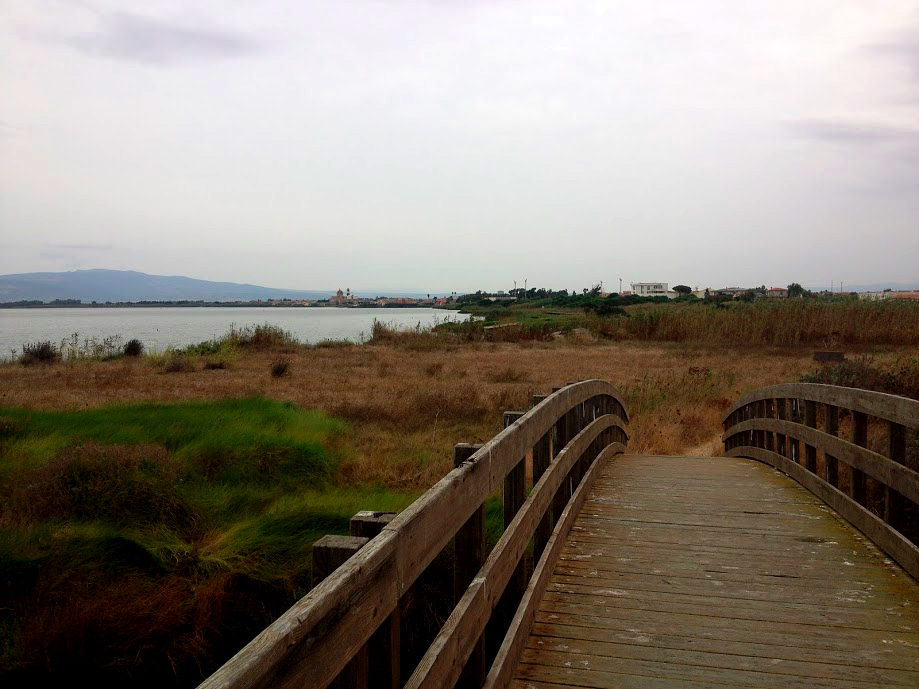 And what to say about the beaches !!! because Cabras has some of the best beaches in the island as San Giovanni di Sinis, Is Arutas or Mesa Longa. In addition, you can visit the Phoenician city of Tharros. And of course, to visit Oristano and stroll through the old town. There are many things to do and definitely is a perfect destination for a weekend  (is an hour and twenty minutes drive from Cagliari) or to spend several days on vacation.
Cabras is also a fishing village, which gives it a special personality and the "mecca" of bottarga, known as the "Gold of Cabras", a product very appreciated in Italy. It is mullet roe, fish that lives in abundance in the pond of Cabras and that Phoenicians and Romans were already large consumers. In Murcia (Spain) are made similarly. They are made in brine, pressed and left to dry .The price is approximately EUR 125 per kilo. It has a very strong flavor so you either love, or hate. Then, you have to try it 😉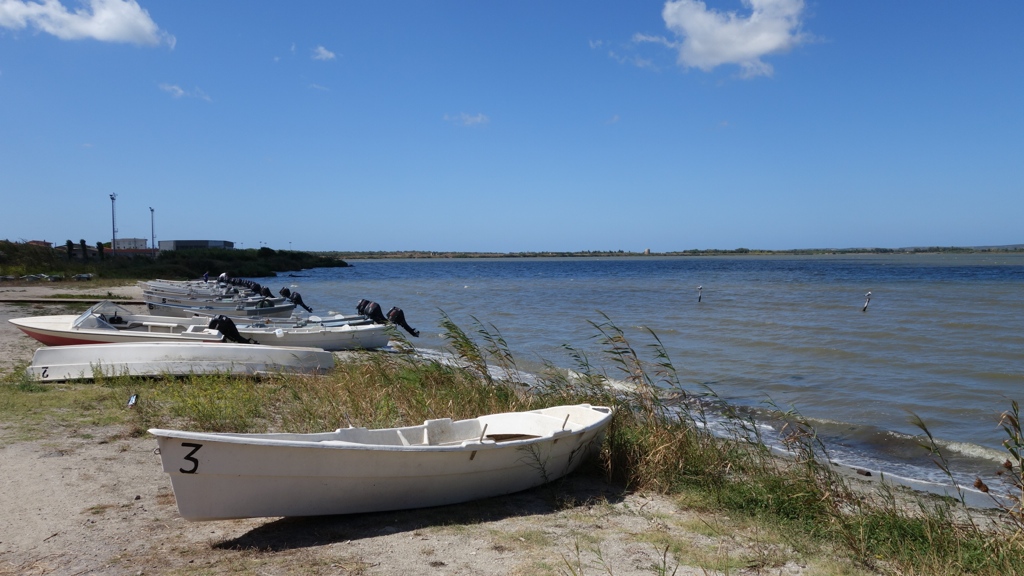 We were fortunate to coincide on one of our stays with the Feast of the Botarga in Cabras, usually a weekend in mid-August. Dates are available on the website of the City Council: Comune di Cabras.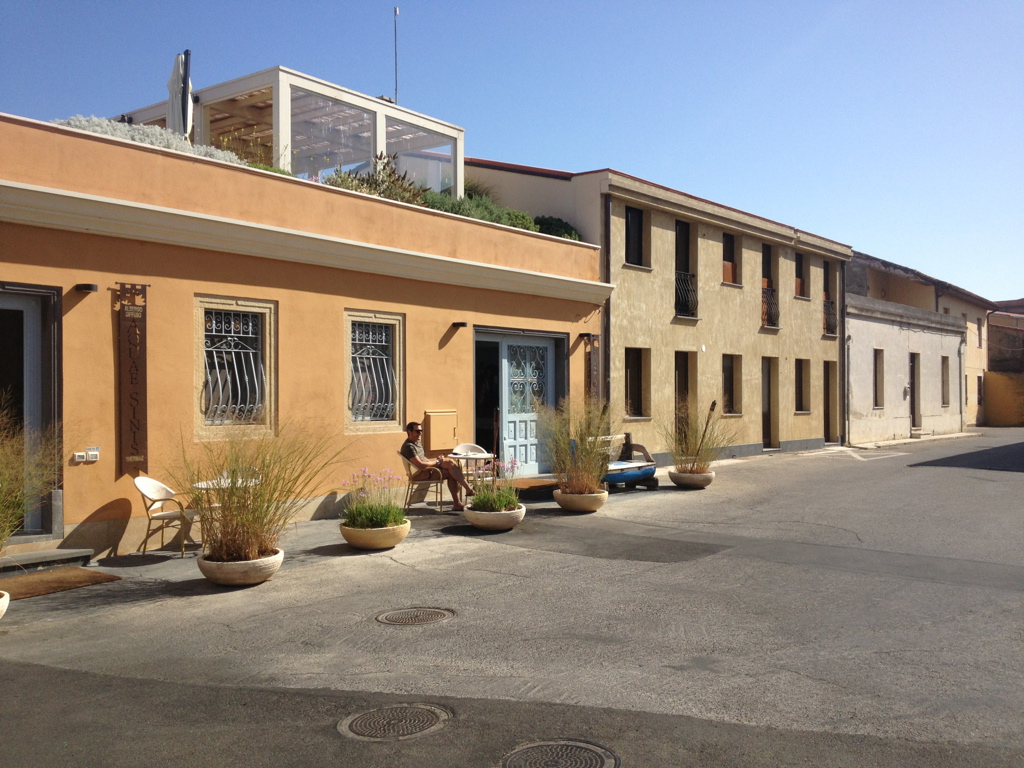 I will confess that one of the things that made me fall in love, it is the hotel where we usually always stay: Aquae Sinis. This is a nice albergo diffuso (which as its name says, is a "diffuse" hotel on several houses in the village, a sustainable concept to harness and rehabilitate existing structures and houses, instead of building new ones). Has a 4 star rating well deserved.
One of the best things about the hotel is that we can relax in the pool after a day of hiking or beach, reading quietly as we fly over the numerous species of birds in the area, from cormorants to flamingos and hawks. In the morning we will surely arouse the pleasant murmur of the neighboring hens .. The breakfast is very correct with local products that vary. They also have a Spa. In the restaurant for dinner you will have a fantastic experience.
In Cabras there are other more basic and affordable hotel establishments such as B & B Torremana, which we discovered recently and are willing to try.
Comment of the local: Cabras for me is a unique place. I discovered it a few years ago, but since then I do not spend too much time without returning. The proximity to Cagliari make it easier still. It is a pleasure to have shared the stories of Cabras with Raquel. This allowed me to give even more value to a place that is worth all the excitement transmitted through our experience.
Cabras has much to tell. It is near the most important archaeological sites, such Mont'i Prama and Tharros. The Giants are a show and its discovery is revolutionizing the entire history of the Nuragic and post nuragica age. Sometimes I think about how I would live long enough to know all the details of all future discoveries! 🙂
When I was in Cabras first time, I thought it looked like a Mexican village. Even Cabras time passes slowly, and this contributes a lot to make it a special place. Besides Aquae Sinis , I was in another B&B located next to the Pizzeria Focus; his name is La Locanda, and is managed by a young couple, Giorgia and Stefano, which are amazing. It is an absolutely recommended place!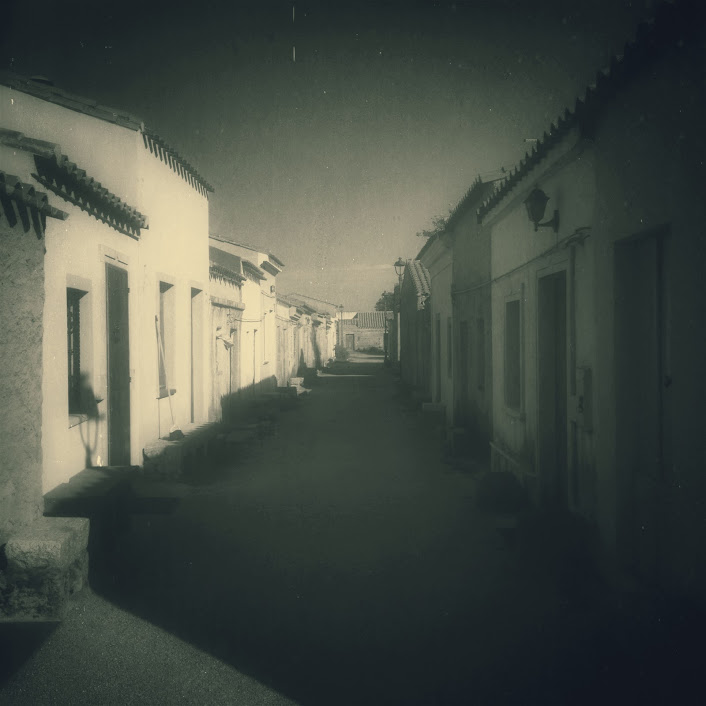 In the area of ​​Cabras, there are very beautiful places to visit. Besides those already mentioned by Raquel, a few kilometers from the village it is the picturesque rural village of San Salvatore. In Oristano area there are several places like San Salvatore, medieval villages with small buildings around a square where celebrate religious holidays.
Even today in San Salvadotore (named in honor of the saint) in late august is held the corsa degli Scalzi (barefoot race). The village for the occasion crowded and food. A wonderful initiative is selling muggine arrosto(grilled mullet) cooked on the grill on the street; and thus, you can buy the fish and eat it there or take it home. To the corsa degli scalzi we devote a larger subsequent article and about other towns such as San Salvatore that characterize this area and, even today, play a vital role for the people and for the preservation of the traditions.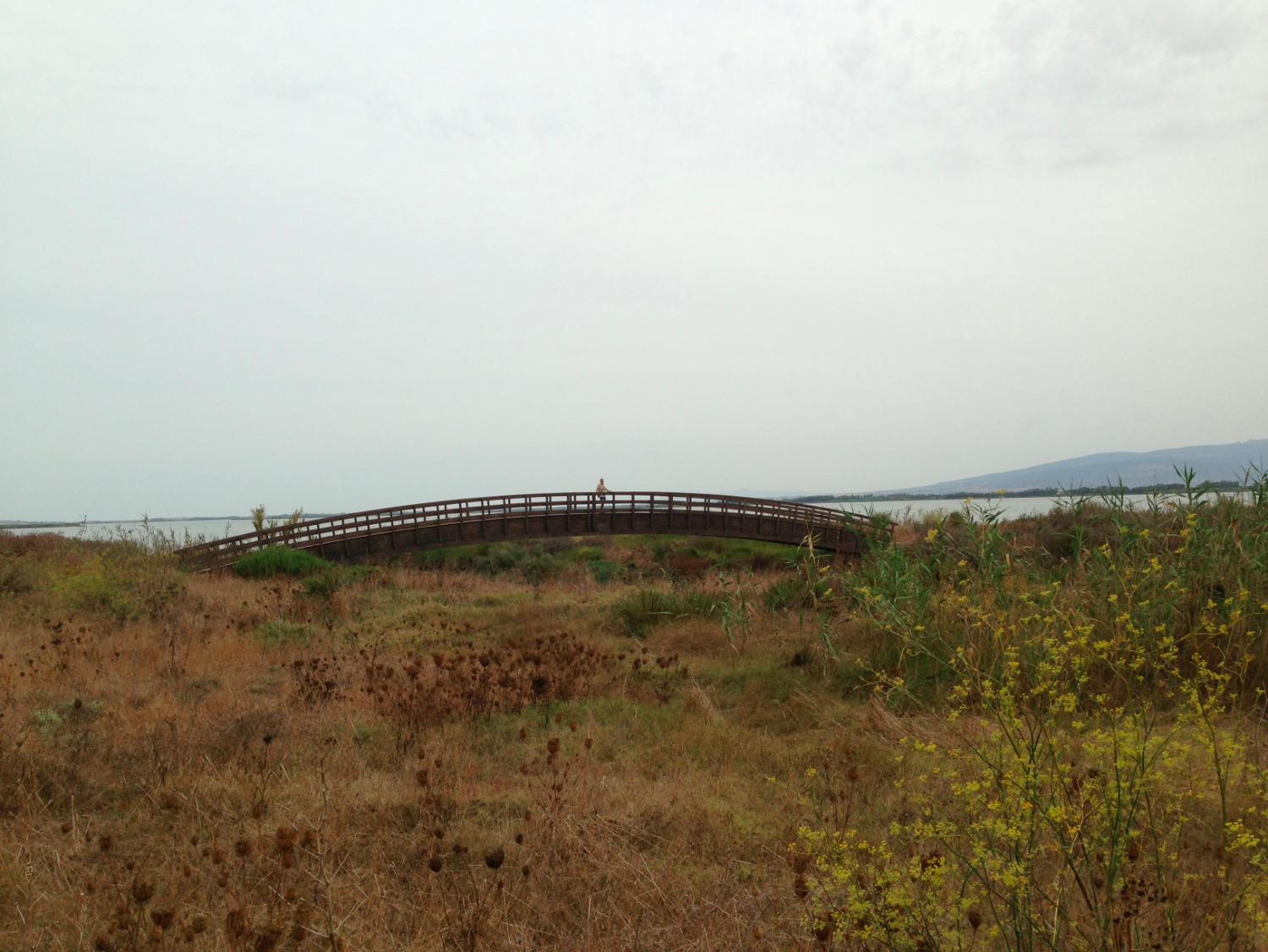 Location: https://www.google.es/maps/place/Cabras